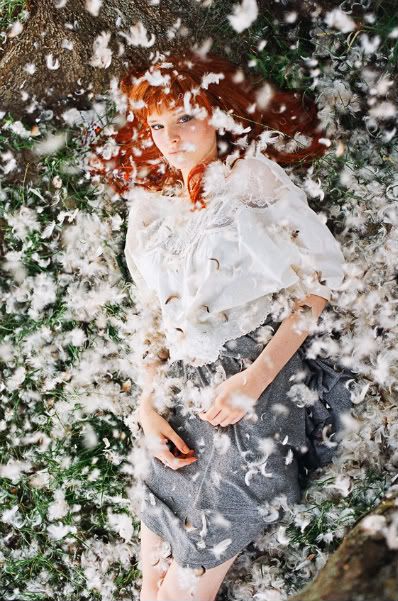 Listening to Chasing Cars (c/o Eric's videoke) and wanting to do the video for myself. It's the quintessential rainy melodrama. I had visions of replacing the guy in the video and I realized that though he looked good with the water on his face; I, on the other hand, will die laughing. It's a funny picture: my eyes and mouth with running water. Still I want to do something like that so instead of water why not feathers just like the orange girl above.
I'm pumping myself up to be an open vessel for the day. Open to all the numbers and gibberish I'm about to soak into.
Dancing alone to the tune of McCartney is good for the heart.
Wondering why the lines, "forget what we're told, before we get too old" and "all that I am, all that I ever was" felt more like life than romance. (and also embarassing[ly] emo)
Asking myself what "boho" means. Not the clothes but what It really means.

how I feel today? weird.