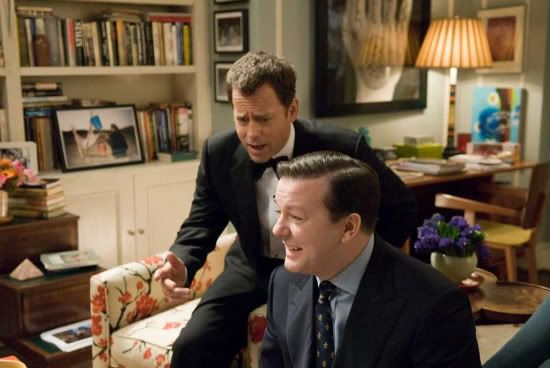 Loved Ghost Town. I was about ready to retire to bed when I felt like watching something "romantic-comedish". I wanted to watch High Fidelity but got tired looking for an online copy, so I picked up one of my neglected DVDs, Ghost Town.
I wanted something refreshing, love-related and funny. This movie nailed all of them in a way that I didn't expect it to. The main character will put Scrooge to shame. I love how you'll hate and love Ricky Gervais' character all through out the film. I'm not a big fan of dry humor but this one got me laughing out loud about some very nerdy, well-played out dental joke. Not my kind of humor, but it was sooo hilarious I had to replay it thrice in the middle of the film to maximize whatever there was to maximize. It spiraled from then on. I definitely enjoyed the prick that Gervais was in this film. It was pretty reminiscent of David Schwimmer's Big Nothing. It's pretty hard to find RomsComs that aren't that generic anymore. This one's unexpectedly enjoyable and endearing. I love how films have an essence of Little Miss Sunshine to them, wherein the moral is creatively weaved into the fiction, you hardly notice the smile creep down your face.
I'm a real Gervais fan now. I'm imagining the dinner-with-Richard scene again. That was really good!